Antisense Oligonucleotides Product Sheet
2'-5' Linked Oligonucleotides
Cellular DNA and RNA are made up of ribo- and 2'-deoxyribonucleic acids linked together via 3'-5' phosphodiester linkages and by far comprise the bulk of polynucleic acids found in cells. Much less common are oligonucleotides which have 2'-5' linkages. However, a unique feature of 2'-5' linked oligonucleotides is their ability to bind selectively to complementary RNA (12-13). These features suggest a number of interesting uses for 2'-5' linked oligos such as their use as RNA specific probes or in antisense oligos.
Chimeric oligos have been synthesized using 3'-deoxy-2'-phosphoramidites and 2'-deoxy-3'-phosphoramidites. Using these amidites the authors synthesized phosphorothioate oligos with 2'-5' linkages and chimeras with 2'-5' linked ends and 3'-5' linked central regions. They found that 2'-5' phosphorothioate oligos: 1) bind selectively to complementary RNA with the same affinity as phosphodiester oligos; 2) exhibit much nonspecific binding to cellular proteins; 3) do not activate RNase H. In experiments with Chinese hamster ovary cells transfected with human 5a-reductase-II (5aR-II), chimeric antisense oligos complementary to the 5' untranslated region of 5aR-II, containing seven 3'-5' linkages in the center, were effective in inhibiting 5aR-II protein in a dose dependent manner. The same oligos with 2'-5' linkages only were ineffective in inhibiting 5aR -II protein synthesis (14).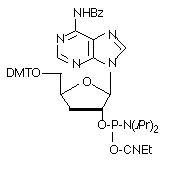 3'-dA-CE Phosphoramidite
*License Agreement: Locked-nucleic Acid (LNA) phosphoramidites are protected by EP Pat No. 1013661, US Pat No. 6,268,490 and foreign applications and patents owned by Exiqon A/S. Products are made and sold under a license from Exiqon A/S. Products are for research purposes only. Products may not be used for diagnostic, clinical, commercial or other use, including use in humans. There is no implied license for commercial use, including contract research, with respect to the products and a license must be obtained directly from Exiqon A/S for such use.